Jennifer Garner @ Michael Vartan news and Pictures
.
Cover: The season of love
Michael and Jennifer Garner first interview since their comefirmed romance.
French Magazine

Exclusive: the interview where they give their secrets away.

Little frame: Yes, we're in love!
p.14/15

It's official! JG and MV are living a true romance. Yet, the two main characters of Alias (S2 currently on M6) prefer talking about their job and their show. Exclusive to us, they give away some secrets about the upcoming episodes and talk about the upcoming release of an Alias DVD boxset and an Alias videogame. The worst things are often said about Hollywood stars' tempers. But these two haven't let it go to their heads and remained very available in spite of their success, which is rare.

p.14: For a long time, there has been rumors of an off screen romance between JG and MV, the main characters of the S2 of Alias, currently on M6. For the first time, publicly and exclusive to Tele K7, they shout out: We're in love!

p.15: Dressed in a lacy shirt and a red skirt, JG is one of the most adorable young stars in Hollywood. Dressed in black pants and shirt, MV, Sylvie's nephew, is more discreet. They're humble, available and warm: love and success haven't changed them.

TELE K7: Like your characters on Alias, you're in love now. Is it difficult to separate real life from fiction?
MV: There never was any ambiguity in our relationship. Jen was married and I've always respected her for that. I never tried to seduce her. We were close since we were constantly working together. But our relationship never went beyond friendship. Things changed recently when the shooting of the show began in early August.

TLK7: Jennifer, is it Michael's French charm that made you fall for him?
JG: Of course! Michael helped me going through the trials caused by my split with SF. He's really the man I was looking for. But Michael wasn't the only one who supported me. I'm lucky to have a wonderful family. My parents were there during the tough times. I also have to thank the Alias crew, from actors to technicians, everybody showed me that we were a family and that I could count on them.

TLK7: The shooting of the S3 has just begun. How is Alias going to develop?
JG: J.J. Abrams, who created the show, has just imagined a new plot that is going to surprise our fans. In S2, SD-6 is disbanded. At the end of the final episode, Sydney wakes up in Hong-Kong two years later. Coma or trick, no one knows why yet. So S3 starts with this shocking news.
MV: While Sydney was missing, Vaughn got married to a mysterious British woman (Melissa George was hired for the role). This is going to bring one more element that is going to slow down the S/V relationship. From the beginning, I've been thinking that we have to keep the sexual tension going between our two characters without getting them together. This holds our fans spellbound.

TLK7: Why did you sign a contract to stay on Alias until 2007?
JG: First of all, it doesn't mean that Alias will last until 2007. I hope we're going to get bigger ratings this year. J.J. Abrams has imagined a whole world around the show. There will be books, comics, and a great videogame that is going to make people talk more about the show.

TLK7: Besides the release of the S2 DVDs, there's going to be an Alias videogame. Have you tested it?
JG: Of course. The player is Sydney Bristow and has to achieve dangerous missions. This game is dedicated to our fans that may love entering the Alias universe. MV: We all directly took part in this game, dubbing our animated characters. That was a nice and original experience.

In Hollywood: Henry Arnaud.

Red frame: there's a quote from MV who says that, in S2, Agent Vaughn is going to make Syd a bit jealous in his turn. Then they make a brief sum up of the end of the S1 finale, talk about The Enemy walks in in which Syd discovers that Irina is The Man. Then they tell briefly what is going to happen in S2: Syd escaping from her mother, Vaughn alive, Emily's death. They say that most of the 22 eppies will be centered on Irina who surrendered to the CIA. And finally, they mention all the guest stars. Last sentence: Obviously, Alias is one of the most innovative show of the new millennium.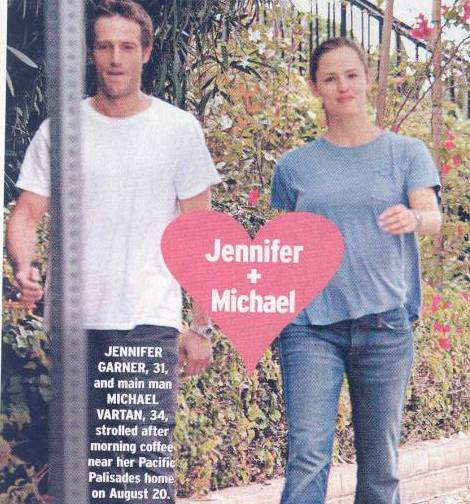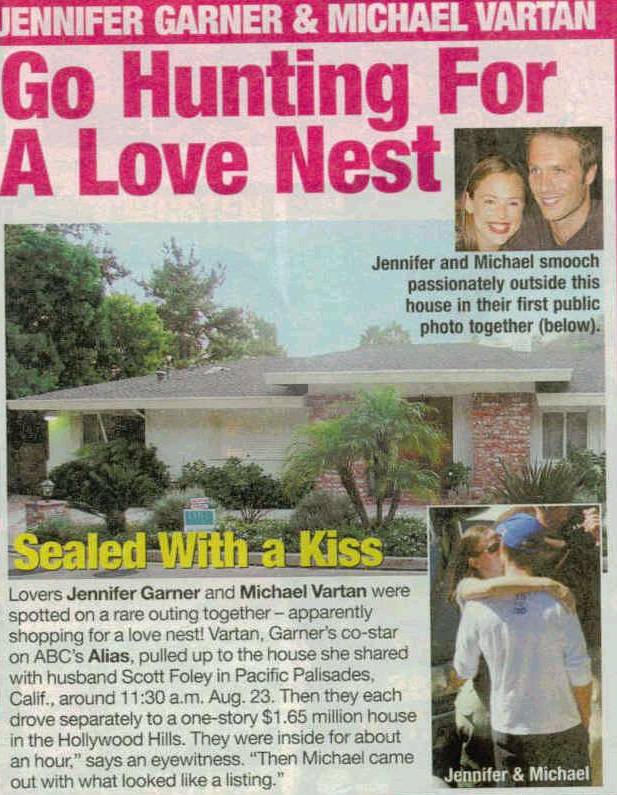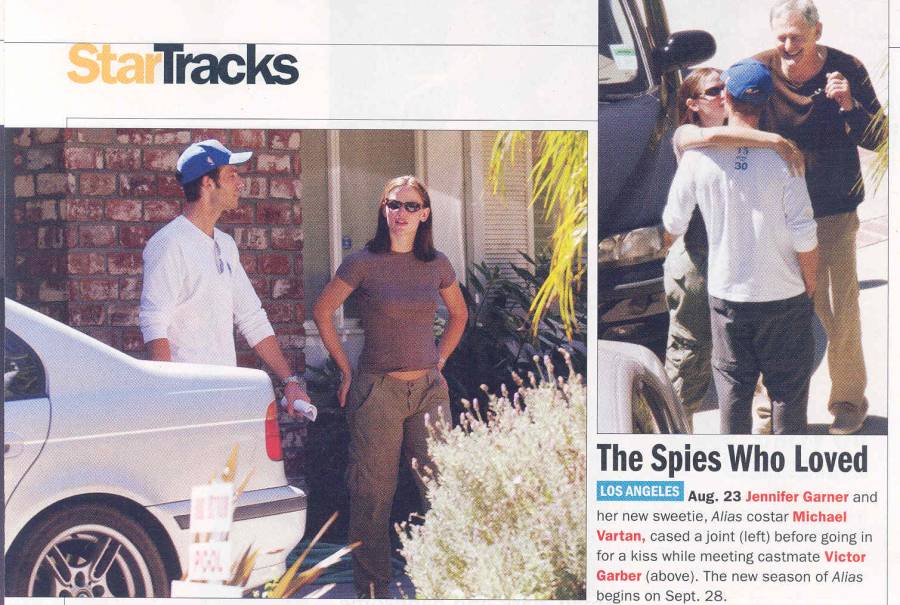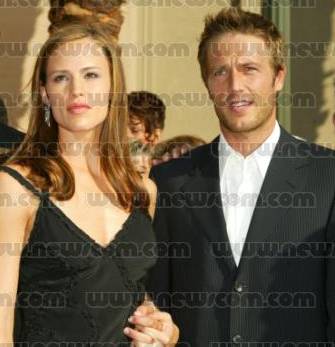 'Alias' date has a fishy end
By William Keck, Special for USA TODAY
LOS ANGELES Enough with Bennifer already! It's officially open
season on "Gartan"-watching, and Night One couldn't have been more
intriguing as Alias star Jennifer Garner looked on in bewilderment as
(newly confirmed) boyfriend and co-star Michael Vartan nearly
collapsed after consuming bad sushi.

Alias actresses Merrin Dungey and Jennfier Garner attend a party
for the new videogame based on the show.
By Frederick M. Brown, Getty Images

Garner, 31, who has filed for divorce from Scott Foley, made her
first professional appearance with Vartan, 34, as a couple Tuesday
night. They attended an event that previewed the new Alias video game
and promoted next Tuesday's release of the show's complete first
season on DVD.

It was apparent something was not quite right with Vartan the minute
he took his place at a news conference dais alongside Garner,
producer J.J. Abrams and several other cast members, including Victor
Garber and Ron Rifkin. Midway through the question-and-answer
session, Vartan began perspiring profusely "pouring sweat," as co-
star Merrin Dungey described it. He quickly shed his black pinstriped
jacket before excusing himself and dashing off. Moments later, a
series of loud clunks were heard backstage, prompting Abrams to joke
that Vartan had taken a tumble down the stairs. Everyone laughed but
Garner.

Downstairs at the after-party, the actress told USA TODAY
that "Michael went home" and wouldn't be coming back. Garner, looking
like a candy striper in a white and pink striped dress, soon
hightailed it, too.

Garber, Garner's TV dad, arrived late to the after-party after
driving Vartan home. "Michael told me he started feeling (sick) right
after he walked on and thought, 'Oh no, it'll go away,' but if he had
stayed one more minute it would have been all over," Garber
said. "But he'll be fine. Just a bad piece of fish."

During the party, guests sipped from Alias martini glasses and
sampled appetizers served by women wearing the bright red wigs
Garner's Sydney Bristow routinely sports on the show.

Though the subject of her off-camera relationship with Vartan had
been taboo at the news conference, Garner did say she's looking
forward to the love triangle heating up on-screen between Sydney,
Vartan's Vaughn and newcomer Melissa George, who debuts in the
upcoming third season's second episode as Vaughn's new wife,
Lauren. "I'm loving the aspect of this triangle," Garner said. "They
both love this man, and Sydney loves him enough to let him go."

Abrams didn't mind opening up a bit more about art imitating
life: "It's interesting that Michael and Jennifer's dating coincides
with a story line where they're not together on the show."


PETITION TO REUNITED SYDNEY AND VAUGHN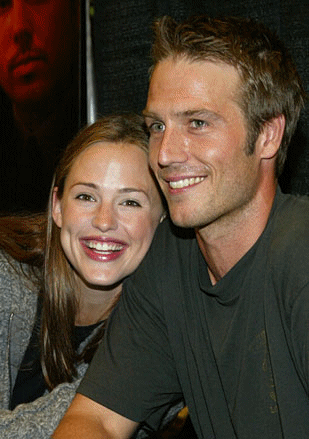 .
Enter supporting content here